Location
On the side of Tower House in Tower Street, Old Portsmouth



Plaque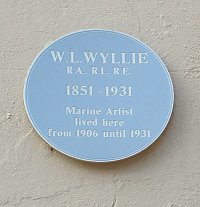 Tower House
W.L. and Marion Wyllie
The Wyllie Grave
Inscription
W.L.WYLLIE
R.A., R.I., R.E.

1851 - 1931

Marine Artist
lived here
from 1906 until 1931


Further Information
William Lionel Wyllie was one of Britain's most respected maritime artists and rightly deserves to be considered alongside Dickens or Conan Doyle when the story of Portsmouth's contribution to the arts is discussed. As Sir Hugh Casson P.R.A. wrote when Whyllie was in his 70s, "To me he seemed the perfect man living the perfect life. I was passionate about boats but here was somebody lucky beyond belief who seemed to live entirely on behalf of (and only for) boats. He designed them, cared for them sailed them and above all he never ceased to draw and paint them in every size and shape and in all weathers. He drew them as a seaman would... accurately, affectionately and above all with that deep practical understanding of the fact born of experience, that seamanship is fun but it is also serious."

Wyllie was born in London in 1851 into an artistic family, and trained at Heatherley's Academy, and then at the Royal Academy Schools, where he first exhibited in 1868. During the mid-1870s he spent much time on a barge, converted into a floating studio, going up and down the Thames, then in 1879 he married Marion Amy Carew and in 1885 they moved to Hoo lodge at Rochester. In 1889 he was elected ARA and subsequently became a full Academician in 1907.

1906 saw the Wyllie family, by now including five sons and two daughters, move to Tower House at the entrance to Portsmouth Harbour. It had been a complex of stores, chambers, wharves when it was auctioned by King & King but the Whyllie's converted it into a dream house for a maritime artist. Here he could sit and paint, so close to the water's edge that he could almost touch the ships passing by.

For the next 25 years W.L. and Marion firmly embedded themselves in the social, academic, naval and artistic fabric of Portsmouth. Shortly after arriving in the town he founded, at the request of Lord Baden-Powell, the Portsmouth Sea Scouts Troop with whom he maintained a close connection for the rest of his life. In addition he was a founding member of the Portsmouth Sailing Club. But it was in his painting that he had the greatest influence, especially during the Great War during which he became a de facto war artist. Two of Wyllie's sons were killed in the First World War and both have memorials in Portsmouth Cathedral, one of which is a painting by WL Wyllie.

Prior to the war, Wyllie had been involved with a group of enthusiasts interested in the preservation of HMS Victory which was gradually rotting away in Portsmouth Harbour. This had been a continuation of his fascination with the ship which had led him to discover in a Chatham Dockyard store the original battle-torn top-sail carried by the Victory at Trafalgar (This is now on permanent display as part of the Royal Naval Museum in Portsmouth Dockyard).

After the war, HMS Victory was brought into dry dock and her restoration began. This inspired Whyllie to further pursue his idea of creating a large panorama of the Battle of Trafalgar to be on permanent display close by the ship. This project was to last for nine months during which time he worked closely with his daughter Aileen. The mural was unveiled by King George V in 1930 and is now in the Royal Naval Museum close by the Victory.

Wyllie died on 6th April 1931 having suffered a heart attack. His funeral was held at Portsmouth Cathedral after which his coffin was carried to Point and placed aboard a cutter from HMS Nelson which transported it to St Mary's Church in the grounds of Portchester Castle where Wyllie is buried alongside his wife and daughters Eva and Aileen (see left).