Location
On the south side of High Street in Old Portsmouth, approximately 100 yards north of the Cathedral. Two plaques are set in the wall of a block of flats (George Court), some 20 yards back from the pavement and a third is placed into the pavement itself.


Memorial (2005)
Memorial (2002)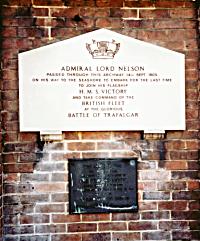 Original Plaque
George Hotel (Rear)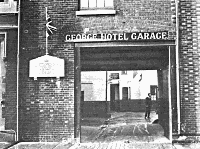 Plaque (On Pavement)
George Hotel (Before WW2)
Inscription (Upper Wall Plaque)
ADMIRAL LORD NELSON
PASSED THROUGH THIS ARCHWAY 14th SEPT. 1805
ON HIS WAY TO THE SEASHORE TO EMBARK FOR THE LAST TIME
TO JOIN HIS FLAGSHIP
H.M.S.VICTORY
AND TAKE COMMAND OF THE
BRITISH FLEET
AT THE GLORIOUS
BATTLE OF TRAFALGAR

Inscription (Lower Wall Plaque)
THE ABOVE PLAQUE
WAS FORMERLY ABOVE
THE PENNY STREET ENTRANCE OF
THE GEORGE HOTEL
WHICH STOOD ON THIS SITE
UNTIL DESTROYED BY ENEMY ACTION IN 1941
THE PLAQUE
WAS REPOSITIONED HERE IN
1954.

Inscription (Pavement Plaque)
THESE LAMPS MARK THE SITE
OF THE COACH ENTRANCE TO THE
GEORGE HOTEL

ADMIRAL LORD NELSON
RESTED AT THIS OLD POSTING
HOUSE ON THE 14TH SEPTEMBER 1805
BEFORE EMBARKING ON HIS
FLAGSHIP H.M.S. VISTORY



Further Information

The top photograph on the left shows the wall plaques as they were in 2005 after they had been re-erected for the bi-centennial of Nelson's last day on English soil. The second photograph shows the plaques as they had appeared on the same site before being re-erected. The upper plaque is actually a replica of the original which appears in the third photo, and the fourth, the original plaque in situ, taken from Penny Street at the rear of the hotel prior to World War 2. It was from the back of the George Hotel that Nelson emerged in order to avoid the crowds that had congregated at the front.

The fifth photograph is of a plaque set into the pavement in front of George Court which claims to mark the "coach entrance" to the hotel. This is misleading as there was no entrance for coaches at the front of the hotel; rather the site would have been the point at which coach passengers destined for the hotel alighted. The last photograph shows the front of the George Hotel before it was bombed in 1941. The round plaque that can be seen at the right side of the hotel commemorates Lord Nelson's stay at the George Hotel and is currently in the City Museum and Records Office.